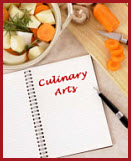 Culinary Arts at Patriot
CULINARY SPECIALTY PROGRAM
CULINARY PIONEERS
The Culinary Arts program at Patriot High School is a comprehensive, competency based program that prepares Prince William County high school students to pursue careers and future education in the culinary field. We are future culinarians, who are required to pass industry safety and skill exams.
The Culinary Arts Application will open November 1.
The Application deadline date is March 15.
The application link will be located here: https://www.pwcs.edu/academics___programs/advanced_academics___specialty_programs (it will become available on November 1)
Teacher recommendations will not be required.

Patriot will be closed to transport students for the 2022-2023 school year.
The program is open to transport students for the 2023-2024 school year  

40 students will be accepted into Culinary I and 20 students will be

accepted into Culinary II

Students interested in the Culinary I must complete a Specialty Program Application
---
Links
Competencies
The Virginia State assessment competencies for Culinary Arts 1 and 2.
There are no links in this category.
Culinary Pioneers In The News
The Bristow Beat highlights our fantastic culinary program