Welcome to Patriot!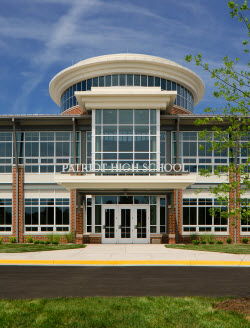 Patriot High School is a beautiful, state-of-the-art, facility located in scenic western Prince William County, Virginia. Patriot, which opened in 2011, is Prince William County's 11th high school and currently serves approximately 2,200 students in grades nine through 12. Patriot was designed by Moseley Architects who garnered a Gold Design Award from the Virginia School Board Association for excellence in design. The building and the surrounding campus were designed specifically to promote academic success, with bright classrooms, beautiful courtyards, and access to the latest 21st century technology.
Learning at Patriot is based on the four core principles of "Leadership, Integrity, Character, Pride." All students are expected to learn to their fullest potential and be actively engaged in the learning process. Patriot is one of the nation's first "Leader in Me" schools, with all students receiving instruction on Stephen Covey's "Seven Habits of Highly Effective People." Students are encouraged to integrate these habits into all aspects of their academic careers.
The mathematics, language arts, sciences, and social studies departments deliver rigorous instruction differentiated to address a diversity of learning styles. In addition to these traditional core academic areas, Patriot also offers instruction in Business, Finance, Marketing, Technical Education, World Languages, Visual and Performing Arts, Photography, Driver's Education, Health, Family and Consumer Sciences, and Physical Education. Our Special Education and Gifted departments serve the needs of a variety of learners and the Media Center plays a vital role in delivering research-based instruction and resources.
Vision Statement
Patriot High School will help to develop the leadership capacity of all students and provide them with a practical skillset that enables them to be successful in the 21st century.
Mission Statement
The mission of Patriot High School is to create a student-centered, leadership-themed, environment that will:
Empower students to plan and organize their own priorities to meet new challenges effectively
Create a 21st century learning environment that provides students with valuable communication skills, critical thinking skills, and practical applications in order to become a successful member of the community
Continually seek to improve the quality of our work, demonstrate originality, and inventiveness, and actively seek feedback from others
Create and provide opportunities for all students to demonstrate multiple levels of skill mastery and competencies in our chosen areas of study
Seek first to understand and appreciate the diverse background of our peers and colleagues within our community of learners and synergize effectively to accomplish common goals
Collaboratively problem-solve when faced with adversity and collectively meet challenges through teamwork, communication, and a win-win mentality
Build strong relationships with our students, staff, and community to enhance our ability to develop new ideas, accept new challenges, and prepare students for professions of the future, which are unnamed and unknown
School Information
Patriot High School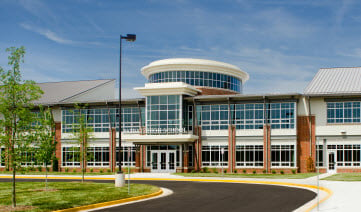 10504 Kettle Run Rd.
Nokesville, VA 20181
Phone: 703-594-3020
Fax: 703-594-2814
Principal: Dr. Michael Bishop (bishopme@pwcs.edu)
Assistant Principals: Mrs. Delores Lucas, Mrs. Carla Drew, Mr. Dave Van Gelder, and Mr. Chris Brown
Director of School Counseling: Mrs. Terri Snoots
Athletic Director: Mr. Brad Qualls
Date Opened: September 2011
Number of Students: 2,200
Number of Staff: 227
School ColorsNavy Blue, Red, and Silver
School Mascot: Pioneers
Specialty Program:
AP Scholars® - Aligned with the nationwide Advanced Placement® Program, which is a part of the College Board's partnership with high schools, colleges, and universities. The program provides students with instruction in college-level courses, taught by College Board trained instructors.
Additional Programs:
Special Features:
21st-Century Learning Environment
CTE specialty programs providing opportunity for certification
Access to technology for students and staff members
Athletic facilities that will provide for community and student needs
Leadership Development Program for all students and staff members
Communities Served: View Prince William County High School boundaries.
Activities: All VHSL sanctioned sports and activities will be offered at Patriot High School (depending upon student interest).
Transfer Students: Refer to Regulation 721-1, School Attendance Areas. Each January the decision is made whether or not a school will be open to transfers. Patriot looks at our specialty programs - APS and Building Trades - and current enrollment to determine if transfers will be accepted.